Free Guide
Security awareness training is

broken

.
HRM is the

fix

.
Humans are your strongest line of defence, but security awareness training alone won't transform user behaviour. Learn how Human Risk Management (HRM) builds security-savvy workforces.

Learn why awareness training isn't enough
Understand why many security awareness programs fail to improve cyber behaviour.
Discover how HRM transforms staff behaviour
Learn how HRM truly transforms staff behaviour without hindering productivity or resources.
Start building a security-savvy workforce today
Start calculating your organisation's human cyber risk with a free usecure trial.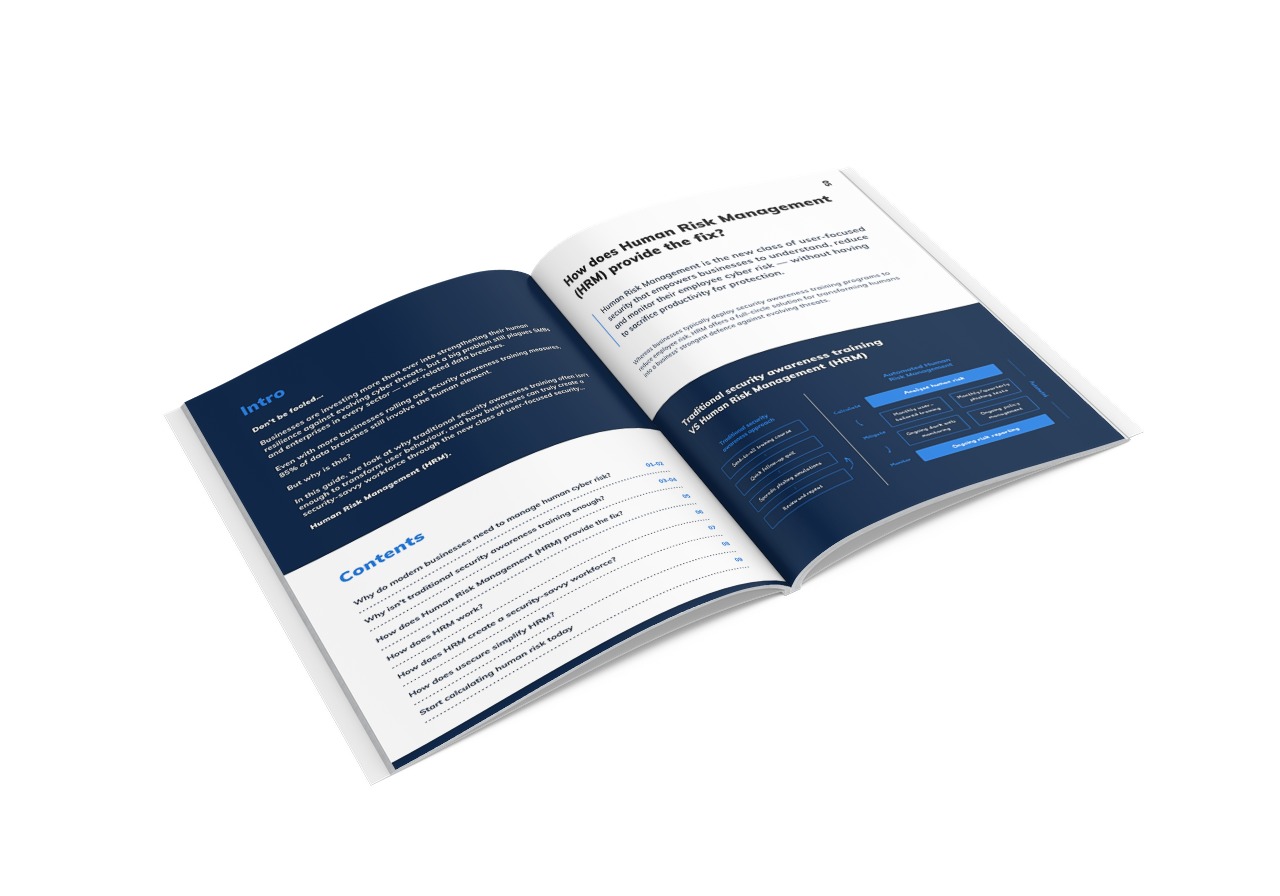 Introducing Human Risk Management (HRM) — the new class of user-focused security.

Understand how HRM creates a security-savvy workforce

Learn why traditional security awareness training falls flat

Know the key ingredients of an effective HRM program

Learn how usecure simplifies HRM deployment and admin

Start evaluating human cyber risk today
usecure's HRM platform empowers businesses to

understand

,

reduce

and

monitor

staff cyber risk — without having to sacrifice productivity for protection.
Even with more businesses rolling out security awareness programs to combat evolving threats, over 90% of cyber breaches stem from human error.
Many businesses still over-rely on irregular, generic and unengaging security awareness tactics without monitoring the actual impact of their efforts.
The truth is, more is needed.
usecure's HRM platform empowers IT pros and managed service providers to measure, mitigate and monitor human cyber risk through user-tailored security awareness training, periodic phishing simulations, simplified policy management and ongoing dark web breach monitoring — with ongoing human risk scoring that clearly showcases the impact on risk over time.
Access your free guide now