Free Data Protection Posters
Boost staff security awareness with free Infosec & GDPR Workplace Posters
Implement soft workplace reminders of data protection and GDPR best practice with free cyber security awareness posters.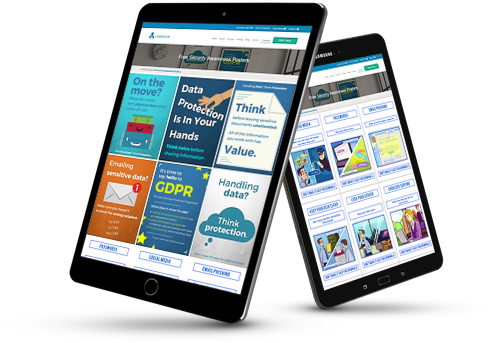 Overview of GDPR
Educate staff on what GDPR is, why it's important and how to follow the standards set.
Data Protection
Remind users of why data protection is vital and offer some quick tips.
Phishing Scams
Help users understand what phishing is and how to spot the warning signs.
Password Hygiene
Educate staff on choosing strong passwords and how to keep them updated.
Working Remotely
Offer some useful tips for staying secure when working away from the office.
And more...
Explore the full library of infosec, GDPR and cyber security awareness posters.
Access your free Infosec & GDPR posters
Submit the form below and start exploring the poster library.